Home
>
News & Events
>
New Eastwood Rehabilitation & Healthcare Center Celebrates Resident Muriel Hartline's 106th Birthday
New Eastwood Rehabilitation & Healthcare Center Celebrates Resident Muriel Hartline's 106th Birthday
Easton Skilled Nursing Facility Surprises Centenarian with 106 Cards from Collingswood High School, Her Alma Mater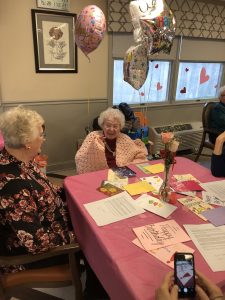 EASTON, Pa., Feb. 6, 2020 – When asked her secret to living a long life, Muriel Hartline, a 106-year-old resident at New Eastwood Rehabilitation & Healthcare Center in Easton, quickly responded, "having faith in God and playing the piano in church." New Eastwood recently hosted a birthday party for the centenarian, surprising her with 106 birthday cards from her alma mater, Collingswood High School in Collingswood, N.J.
"Everyone loves Muriel; it was a huge celebration!" said Amy Beatty, activity director at New Eastwood. "Muriel is always interesting to talk with and has an incredible memory. She can reflect back to her childhood and the time of World War I."
Hartline moved to New Eastwood in 2015. Family and friends joined in her afternoon birthday festivities, which also featured a colorful array of flowers, balloons and lots of cake and ice cream, of course.
Born on January 28, 1914, in Camden, N.J., Hartline played piano as a child in Sunday school, and accompanied her older brother on his clarinet and with the high school orchestra, memorizing many Chopin compositions. When the Depression hit and her father lost his job as a draftsman with the Philadelphia Gas Works, Muriel got a job as a clerk at Penn Mutual Life Insurance in Philadelphia to help out the family.
Not to be deterred from her dream of a career in music, Hartline went on to study at the Philadelphia Conservatory of Music and the Manhattan School of Music, majoring in piano pedagogy. She was a certified teacher of the N.J. Music Teachers Association, and for many years, her pupils were entered in the National Guild of Piano Teachers' auditions.
Music and faith also played a role in bringing her and her husband, Paul, together; she was playing piano for her church's youth group when he visited from the Lutheran Seminary in Philadelphia. The rest, as they say, is history. The two shared 74 years of marriage and have a daughter, also named Muriel. They served in parishes in eastern Pennsylvania, as well as in Stewartsville, N.J. In their retirement years, the couple traveled and square danced with the Eastonaires, including a performance at the White House.
"Muriel has shared her strong faith and gift of music with countless others throughout her lifetime," added Beatty. "And she is such a special presence here at New Eastwood."
"It's been a wonderful life," said Hartline.
Located at 2125 Fairview Avenue in Easton, New Eastwood Rehabilitation & Healthcare Center provides post-hospital care, short-term rehab and long-term residential care; it is adjacent to Easton Hospital and provides a number of specialized rehabilitation programs, including a recently enhanced cardio pulmonary care offering. The 97-bed facility maintains a five-star rating from the Centers for Medicare & Medicaid Services (CMS).
###
PHOTO CAPTION: Muriel Hartline (seated on right), a resident of New Eastwood Rehabilitation & Healthcare Center, celebrated her 106th birthday with friends and family members, including Frances Slostad (seated on left) at the skilled nursing facility.
Media Contact:
Sandy Crisafulli / Emma Ackel
Caryl Communications
201-796-7788
sandy@caryl.com / Emma@caryl.com